Blood Sugar Meters
Covering blood sugar meters and strips, reviews, comparison, accuracy and how they work
Blood Sugar Meters and Strips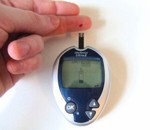 Today, blood glucose meters, blood pressure monitors and other home medical gadgets are portable and easy to use. Over the past few years, manufacturers have had the patients in mind.
The whole idea was to try and give as much comfort for the patient and convenience by reducing the volume of the blood sample required. A good meter will be one that you use regularly and brings back accurate and precise results.
As far as blood glucose test strips are concerned, One Touch Ultra Mail Order Test Strips, Bayer Contour Blood Glucose Test Strips, Freestyle Lite Test Strips, One touch Ultra 100 count and Accu-Chek Aviva Mail Order Test Strips 50 count box have been rated 5 stars by users. They are a great value for money.
How Blood Sugar Meters Work
Most blood sugar meters test for the glucose levels in your "whole blood". There are some that check for the glucose levels in the "plasma" only. It is therefore important when you are using your blood glucose meter that you find out whether it's whole blood or plasma calibrated. It will make the comparison of results easier. "Whole blood" and "plasma" are explained further down in the article, in the paragraph blood sugar meters accuracy.
Blood Sugar Meters Accuracy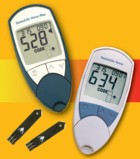 Have you noticed a difference in the results from maybe your new blood sugar meter as compared to your old meter or to your lab test results.
Most people would expect that all blood sugar meters will give the exact same result, naturally, because after all, it's the same thing that's being measured- your blood glucose level.
However, there are many reasons why that does not happen. For one, some blood sugar meters give "plasma" results and others give "whole blood" results.
Secondly, lab equipment and blood sugar meters measure different parts of the blood and therefore will give what seems to be different results. To clarify it further we'll use an analogy of the way temperature and weight are measured. In temperature, we have degrees Celsius and degrees Fahrenheit, with weight, we have pounds and kilos. Both measure the same thing, but you get different results (in terms of figures). For example, 100 degrees Celsius is 212 degrees Fahrenheit and 100 kgs is 220 lbs.
Your blood glucose meter will be considered as clinically accurate if the results it produces falls within +/- 20% of your lab test result. This means, to be certain that it's accurate, you must use the same blood sample for the lab test and for your meter test and then compare the results.
Lab equipment uses only the plasma portion of the blood. This means that red blood cells would have been removed before the glucose is measured. Blood sugar meters on the other hand use whole blood to measure glucose, this is why the results are about 12% lower than the plasma test results.
In order to accurately compare your meter results to your lab results you first need to find out how it is calibrated. That is whether it is whole blood or plasma. If it is on whole blood you will need to first convert the lab result into its whole blood equivalent in order to compare the results. To do this, you will need to divide the lab result by 1.12. For example, if your lab result is 224, you divide 224 by 1.12 giving you 200 which is the "whole blood" equivalent result of your lab test results. You can now compare your blood glucose meter reading to that of the lab and still give room for the +/- 20% variance.
If your meter is plasma calibrated, you can compare the results directly but you will still need to factor in the +/- 20% variance.
Best Blood Sugar Meters Reviews and Comparison
Purchasing a blood sugar meter is an important thing. You need one that is convenient, reliable and accurate so you don't have to prick yourself several times before you get your results. Here is a review and comparison of five blood sugar meters, which hopefully will help you get the best deals.
One Touch Ultra 2 Blood Glucose Monitoring System

With this meter, you can view before and after meal averages, see the impact of your food choices as well as see the effects of food and portion choices over time. This is where diabetic nutrition, the glycemic index diet plan and low glycemic food list will play a role. Eating healthy is very important for diabetics.

Back to our review- this meter has a simple one touch operation. The many people who have used this product have not been disappointed. This meter is fast and efficient. It brings back your results in just 5 seconds and has a backlight which makes such a difference.

You can add comments to your readings and flag them as before or after meals. In addition to that, you can then also check your average based on all the results. You can have a before meals average and an after meals average, and an overall average reading. The One Touch Ultra 2 is compact enough to be carried everywhere. It can store up to 500 readings which you can then download to review using special software.

You can get this software and USB cable online from LifeScan who offer these for free via their website. Should you not be able to access them, you can also purchase the software from the maker of the meter- One Touch. So once you download your results you can even print them and take them with you to your next doctor's check up, now how cool is that?!

It uses less test strips, making a good saving for you. You won't worry about having to use 10 test strips just to get one reading. To be precise, it uses one test strip for One Touch Ultra. This test meter is also great for women with gestational diabetes, it's really hassle-free.

This kit comes with zippered and velcro pouches for tucking the supplies away. The only downside to it is that it requires just a bit more blood as compared to the Accu-Chek Aviva. And also, the kit does not come with a test solution, you will have to purchase that separately. But overall it's a great meter.

Accu-Chek Compact Plus Meter Kit

To use this meter or check the previous reading simply press the Memory button. When you do so the meter turns on and shows the current time, date and the last blood sugar reading. It has the capacity to hold 17 strips at a time.

Like the One Touch Ultra 2 it brings back results in 5 seconds and you can carry it with you everywhere. Even in a restaurant, there are no hassles in using it. No need to be awkwardly shuffling around with foil wrap! It's also quite accurate.

The Accu-Chek Compact Plus meter has a large viewing screen and displays results in large numbers. This would be a plus for those with eyesight difficulties. Also like the One Touch Ultra 2, to a certain extent, this meter allows you to average the previous 7 day readings. You can also download the results onto a computer with software and USB cable which you will have to purchase separately. It however only stores 100 readings compared to the 500 of One Touch Ultra 2.

It's simple and straight forward to use and relatively painless. Some have said that it's lancet device is the most pain-free they've ever used. Their lancets are thinner and coated with teflon. The only downside to it is that, for some, it's a little bulkier than most meters. Otherwise, overall, it's a great meter with a 4 star rating.

Accu-Chek Active Diabetes Monitoring Kit with Free Softclix Lancet Device

This meter has a 30 day money-back guarantee and a three year warranty. You can use your fingertip or forearm for testing your blood sugar level. And like the above two meters you get your results in 5 seconds.

In the United States, most insurance and Medicare cover Accu-Chek diabetes self-testing products. The kit also includes a lancet device ten lancets, self-test diary, instructions and carry case.

Those who have used it say it's very user friendly and accurate. In fact, some who have had diabetes for as long as 33 years say this is the best meter they have used yet. This product however doesn't come with test strips so you will need to purchase these separately. It also requires a very small sample of blood and like the above two meters, you get your results in just 5 seconds. It's been overall rated as 5 stars, and that means it's a great meter.

Bayer's Contour Blood Glucose Monitoring System by Ascensia

This blood sugar meter requires no coding. And like the Accu-Chek Active, Accu-Chek Compact Plus and the One Touch Ultra meters, it will bring back your results in just 5 seconds.

It only requires a 0.6 blood sample size and you can test from your palm or your forearm. It can store up to 480 results and you can average your results for up to two weeks which you can download onto a computer.

This kit contains the meter of course, Quick Reference Guide, User Guide, Ascensia Microlet Adjustable Lancing Device with five lancets and Ascensia Clinilog record Diary. It also contains a carry case and a warranty card with a five year limited warranty.

Some who have been diabetic for 12 years have said this has been the best and easiest to use straight from the box. Like the Accu-Chek Compact Plus it also has a large display which is helpful for those with eyesight problems. You can even use the meter whilst it's still in it's case. You can also track before and after meal readings like the One Touch Ultra 2. Overally, it's a great meter with a rating of 4 stars.
In conclusion, One Touch Ultra 2 Blood Glucose Monitoring System, Accu-Chek Active Diabetes Monitoring Kit with Free Softclix Lancet Device, Accu-Chek Compact Plus Meter Kit and Bayer's Contour Blood Glucose Monitoring System by Ascensia are considered to be some of the best blood sugar meters. We give them two thumbs up!