Healthy Appetizer Recipes
Including Delicious, Heart Healthy Appetizer recipes for kids and for party
Delicious, Heart Healthy Appetizer Recipes
Appetizers are a great way to start of a meal. It is therefore important that you choose the healthier options if you want to be eating healthy. Most of us are beginning to watch what we are putting in our mouths to avoid thing like obesity and the associated health problems such as hypertension, cardiovascular diseases and diabetes. So if you want to impress your family and friends, try out these delicious, easy, heart healthy appetizer recipes.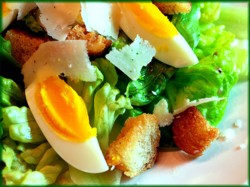 Caesar Salad
This salad falls into the healthy appetizer recipes category for the following reasons. Lettuce is a good source of iron, folate, fiber and vitamin K. Eggs are a good source of protein. Whilst anchovies are rich in omega-3 oils, these fish contain calcium, iron and phosphorus. All these are nutrients and minerals needed by our bodies. The caesar salad can also pass with some vegetarians, those who do eat seafood and produce from poultry, such as eggs. You may also be interested in some healthy salad recipes.
Ingredients
1 lettuce
750ml French bread cubes
125ml olive oil
4 cloves garlic
baby tomatoes
3ml Worcestershire sauce
8 anchovy fillets
3 eggs, hard boiled
olives
45ml lemon juice
125ml Parmesan cheese, grated or shaved
Directions
Crush and peel the garlic. Finely chop or mash two cloves of garlic and mix with 60ml of olive oil.
Brush oil over bread cubes and place it on a baking tray. Bake at 180 degrees Celsius for 10-15 minutes or until golden, turning occasionally.
Wash and dry lettuce. Tear leaves into pieces and place in a medium sized bowl.
Mash remaining garlic cloves with salt.
Mix lemon juice, garlic and Worcestershire sauce with remaining olive oil and pour over the lettuce.
Add olives and baby tomatoes
Shell eggs, chop roughly and add. Sprinkle Parmesan cheese over salad and toss.
Cut anchovies into pieces and place on top of salad.
Sprinkle the croutons, and your salad is ready to serve.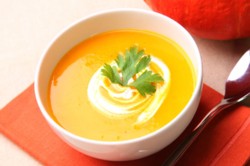 Pumpkin and Potato Soup
Pumpkins are packed with disease fighting nutrients such as Vitamins C and E, magnesium alpha- and beta-carotene. Alpha-carotene is converted into vitamin A when in the body and that promotes healthy vision and ensures proper immune function. Beta-carotene can reverse skin damage caused by the sun and act as an anti-inflammatory. There are plenty more reasons why this has passed to be part of the healthy appetizer recipes family, but for now we'll keep it at this. Be rest assure you're doing great service to your body.
Ingredients
750g peeled and seeded pumpkin, cut into small pieces
4 large potatoes, peeled and diced
1 chopped onion
500ml water
salt and pepper
1 sliced leek
250ml cream
2 crumbled chicken stock cubes
Directions
Place pumpkin in large saucepan. Add the onions, leeks, stock cubes, potatoes and water.
Bring to the boil, reduce heat and simmer, uncovered for 30 minutes until vegetables are tender.
Puree the mixture until smooth. Return the puree to saucepan, add cream, salt and pepper. Stir over low heat until heated through.
Delicious, Heart Healthy Appetizer Recipes for kids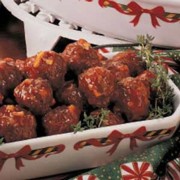 Beef Balls in Barbecue Sauce
Healthy appetizer recipes are not so difficult to get done. Beef is a good source of iron and protein. We need protein in our bodies to help repair tissue muscles and iron helps with the transportation of oxygen in the blood.
Garlic is good for preventing many ailments including the common cold and flu. Ginger is good for natural healing and boosting your immune system naturally.
This is why beef balls in barbecue sauce pass into the healthy appetizer recipes for kids group. This recipe takes 15minutes preparation time and 6 minutes cooking time. Your kids will most definitely love this.
Ingredients
500g premium mince beef
1 teaspoon fresh ginger, grated
1 clove garlic, crushed
salt and pepper to taste
1 cup bottled barbecue sauce (see note)
1 medium onion, finely chopped
1 egg
Directions
Place mince, egg, garlic, onion, ginger, salt and pepper in a bowl. Combine thoroughly by hand. Take level tablespoonfuls or teaspoonfuls (depending on child's age, use your discretion) of mince mixture and roll into balls.
Place on well oiled, hot barbecue flat plate and cook for 5-6minutes, moving them occasionally. Alternatively, you can place a little olive oil in a frying pan and fry the beef balls over the stove until just done.
Brush meatballs liberally with barbecue sauce 1 minute before the end of cooking.
Place on toothpicks and serve with the extra barbecue sauce as dip
Stuffed Pumpkins with Cheesy Sauce
We all know that parents struggle in getting their kids to eat vegetables. This, however, is a great and fun way to hide vegetables from your kids and get them to eat their veggies and get the nutrients loaded in them. Zucchini is a good source of manganese, magnesium dietary fiber, vitamin C and many more nutrients and minerals. Magnesium in zucchini has been shown to be helpful for reducing the risk of heart attack and stroke. Carrots also lower cholesterol levels and prevent heart attacks.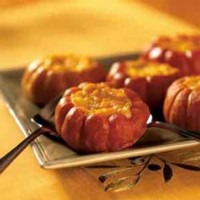 Green beans are packed with loads of minerals and nutrients such as vitamins K, C and A, as well as folate, calcium, potassium and many more. Mushrooms are an excellent source of potassium, a mineral that helps lower high blood pressure and reduces the risk of stroke. This is why we have this in the heart healthy appetizer recipes category.
Another great way would be to prepare it together. Kids will love to eat their 'masterpiece'. There are also plenty of healthy snack recipes for kids where you can cook together. You can also try growing our own greens and they get to know how the vegetables come about. Get more tips in the article how to eat healthy on a budget.
Ingredients
8 golden nugget pumpkins
3 small zucchini
1 peeled large potato
3 peeled small carrots
1 clove garlic, crushed
3 tablespoons olive oil
100g mushrooms
2 finely chopped onions
100g green beans
Sauce
quarter cup plain flour
three quarter cup milk
three quarter cup cream
salt and pepper to taste
30g butter
2 tablespoons chopped chives
1 cup grated cheddar cheese
Directions
Remove the tops from the pumpkins and scoop out the seeds with a spoon. Place the pumpkins and tops in a large baking tray, with 3 tablespoons of water, cover with foil and bake in a hot oven 200 degrees Celsius for 20 minutes or until tender. Allow to cool.
Slice zucchini, mushrooms, carrots and dice the potato. Top and tail the beans and cut into bite-size pieces.
Heat the olive oil in a large pan and cook the onion and garlic until soft and golden. Add the carrots and potatoes. Stir to coat with the butter, cover and cook the vegetables over a low heat for 5 minutes.
Add the remaining vegetables and cook covered, until vegetables are tender, adding a little water from time to time to prevent them from sticking onto the pan. Make sure you don't overcook the vegetables or else you'll lose all the nutrients.
To make the sauce: In a separate plan, melt butter and add flour. Stir over moderate heat for 1-2 minutes. Remove the pan from the heat and add the cream and milk. Continue to cook, stirring until sauce simmers and thickens.
Add the sauce to the vegetables and mix well.
Spoon the prepared vegetables into the pumpkin cases and sprinkle with a little extra cheese and replace the tops.
Place into a baking tray, with a little water to prevent them from burning. Cover with foil and set aside.
Place onto a preheated barbecue grill and cook for 10-15 minutes or until cheese melts and pumpkins are heated through. Alternatively, you could place in a preheated oven at 180 degrees Celsius and grill until cheese melts and pumpkins are heated through.
Serve immediately
Delicious, Heart Healthy Appetizer Recipes for party
As more and more people are becoming health conscious, you need not disappoint your friends and family when throwing a party. Try any one of these healthy appetizer recipes for a party and you'll rest assuredly be overwhelmed with compliments and "how did you do thats"! Not only are they easy and simple but they are also delicious.
Avocado with Creamy Tuna
Avocados are a great source of the needed monounsaturated fats. These help to lower the bad cholesterol and increase the good cholesterol in our blood. Tuna is a great source of omega 3 fatty acids which help with brain functioning. This is why we have it in the healthy appetizer recipes category.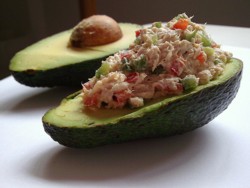 Ingredients
3 ripe avocados
1 tin tuna, drained
125ml whipped cream
1 large lemon
12.5ml parsely, finely chopped
salt and black pepper
snipped chives
12.5ml onion, finely chopped
125g smooth cottage cheese
Directions
Split open the avocados in half and brush with lemon juice.
Pound the tuna with the cheese, onion and parsley to make a smooth thick paste.
Add remaining lemon juice and salt and pepper to taste.
Fold in the whipped cream and spoon into the avocados
Sprinkle with snipped chives.
Position each one on a suitably sized plate and if you like, fan some thin slices of tomato alongside.
Vol-Au-Vents with Tuna and Cucumber Filling
Cucumbers are a good source of iron, calcium and potassium amongst many other minerals and nutrients. It is best natural diuretic known, secreting and promoting the flow of urine. The potassium content of cucumber makes it highly useful for conditions of high and low blood pressure.
Tuna is an excellent source of protein, omega-3 fatty acids, vitamin B12 and potassium amongst many other nutrients and minerals. It therefore helps in lowering blood pressure, and in the prevention of coronary heart disease and Alzheimer's disease.So you see why Vol-Au-vents wit Tuna and Cucumber filling are part of the healthy appetizer recipes? You can put whatsoever filling you fancy, you can put strawberries and cream too and turn it into a dessert!
Ingredients
1 puff pastry, thawed
beaten egg or milk to glaze
Filling
200g drained and flaked tuna
75ml light mayonnaise
half and English cucumber, diced
pinch of salt
1 chopped spring onion
freshly ground black pepper
15ml chopped fresh parsley or 5ml dried parsley
Directions
Preheat oven to 200 degrees Celsius.
Roll out pastry to a thickness of about 3mm. Use a 10cm cutter to cut out 12-16 circles. Use a smaller cutter to cut out the center of half of these circles to make lids.
Brush the edges of the full circles with water. Place ones with center cut out on top. Press down lightly.
Brush with beaten egg or milk and place on a greased baking tray. Bake for 20 minutes until golden brown, bake lids at the same time.
Hollow out center slightly and fill with a filling of your choice
Mix all the ingredients for the filling together and fill Vol-Au-Vents.
Smoked Trout Dip
You can get smoked trout at seafood shops and some delicatessens. Only a small amount is used, but the flavor of this dip is something your guests will not forget. The dip can be served with toasted bagels, sliced raw vegetables, water crackers, pita bread, chips or Melba Toast.
Garlic helps to lower blood pressure and trout is a great source of omega-3 fatty acids. Amongst many other things, omega-3 fatty acids prevent the blood from forming clots, which therefore reduces the risk of heart attack and stroke. They also protect the heart against heart and circulatory problems. There's definitely no doubt why this passes into the heart healthy appetizer recipes.
Ingredients
1 x 250g smoked trout
1 clove garlic, crushed
3 tablespoons milk
2 tablespoons sour cream
half a teaspoon ground black pepper
2 teaspoons lime juice
Directions
Remove skin and bones from the smoked trout. Flake the flesh of the trout and place in a blender or food processor together with the remaining ingredients.
Blend until smooth. Place in a small bowl, cover with plastic wrap and chill until serving.
This dip can also be served with crusty French bread or crispy crackers.
Note: If you don't have a food processor or blender, flake the trout well and mix with the remaining ingredients, using a fork. The texture will be slightly different though.
Wildfire Savoury Nuts
Nuts are a great source of protein and iron, which our bodies need. So it's automatic that this be a part of the healthy appetizer recipes. It will take 25minutes in preparation time and 20 minutes cooking time. These will be gone in no time, your guests will definitely love them.
Ingredients
1 and a half cups roasted cashews or peanuts
1 and a half cups pecan nuts
2 tablespoons oil
half a teaspoon chilli powder
1 teaspoon garam masala
2 teaspoons garlic powder
Directions
Place oil, garlic powder, garam masala, chilli powder and nuts into a heat resistant baking tray. Stir to coat.
Place tray in preheated moderate oven 180 degrees Celsius and cook, tossing occasionally for about 5 minutes.
Remove from the oven and cool before serving.
May these delicious, heart healthy appetizer recipes make you the household name in your friends and family's homes!